Close Encounters of the Third Kind 40th Anniversary Release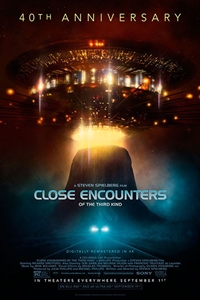 After an encounter with U.F.O.s, a line worker feels undeniably drawn to an isolated area in the wilderness where something spectacular is about to happen.
Details
SciFi/Fantasy
Program
2 hr. 17 min.
Opened 9/1/2017
Director
Steven Spielberg
Cast
Richard Dreyfuss
François Truffaut
Teri Garr
Melinda Dillon
Bob Balaban
Writer
Steven Spielberg
★

Playing At
Coming Soon to a location near you.